Published 2022-12-29.
Version 5
Upgraded in June and July 2022.
Sabertooth x79 motherboards will not boot from PCIe, only from SATA. This seriously limits their performance.
Replaced worn liquid cooler
Increased the memory from 32 GB to 64 GB
Replaced the 3.5" hard drives with a SATA3 SSD drive and a PCIe 3 NVMe drive
Components
ASUS Sabertooth x79 motherboard

LGA2011 • 8x DIMM • PCIe 3.0
Originally BIOS v1104, updated to v1903
Only boots from SATA, not from PCIe

Noctua NF-A4x10 FLX, Premium Quiet Fan, 3-Pin (40x10mm, Brown) This fan replaced the original fan that died after many years of service. It is only needed for overclocked motherboards, and I did not do that.
Intel Core i7 3820 3rd Generation Processor 3.6 GHz 4 Core LGA 2011 - BX80619I73820 • supports 4 channel DDR3, hyperthreading, 4 cores / 8 way multitask, 130W, s/n 2V207078A0143
Corsair Hydro Series High Performance Liquid CPU Cooler H60 • 5 Year Warranty, purchased Jan 5, 2017; replaced July 1, 2022.
2 x G.SKILL Ripjaws X Series 32GB (4 x 8GB) DDR3 1600 (PC3 12800) Desktop Memory Model F3-1600C9Q-32GXM • Total 64GB RAM.
Corsair RM750 modular power supply (CP-9020055-NA). Originally Bear had a Corsair TX750M - which has a 5 year guarantee, but when that power supply started making funny noises in August 2014 after 3 years of constant service I contacted Corsair and they cross-shipped an upgrade to an RM750 at no charge, including free shipping both ways. The RM750's fan does not run until 40% load.
EVGA GeForce GTX 1660 SC Ultra GAMING, 06G-P4-1067-RX, 6GB GDDR5, Dual Fan
Sabrent NVMe M.2 SSD to PCIe - X16/X8/X4 Card with Aluminum Heat Sink (EC-PCIe)
WD_BLACK 4TB SN750 NVMe Internal Gaming SSD Solid State Drive - Gen3 PCIe, M.2 2280, 3D NAND, Up to 3,400 MB/s - WDS400T3X0C
Crucial MX500 4TB CT4000MX500SSD1 3D NAND SATA 2.5 Inch Internal SSD, up to 560MB/s
2 x ASUS PA248Q 24" LED backlit IPS widescreen computer monitor, 1920x1200, 16:10 aspect ratio, 300 cd/m2 brightness, 6ms response time, 178deg. viewing angles • Manual • B&H Photo Video
NewerTech Voyager S3 0GB USB 3.0 SATA Revision 3.0 Drive Docking Solution
AmazonBasics DVI to DVI Cable - 9.8 Feet (3 Meters)
CyberPower CP1500AVRLCD Intelligent LCD UPS System, 1500VA/900W, 12 Outlets, AVR, Mini-Tower
2 x Asus PB238Q 23" widescreen LED backlit IPS LCD computer monitor, 1920x1080, 16:9 aspect ratio, 250 cd/m2 brightness, H:178deg./V:178deg. viewing angles • Manual • Adorama
Noctua NT-H1 3.5g, Pro-Grade Thermal Compound Paste (3.5g)
SSD & NVMe Drive Benchmarks
I could only install one NVMe drive on the motherboard (WD_BLACK 4TB SN750 NVMe - Gen3 PCIe, M.2 2280, 3D NAND, Up to 3,400 MB/s - WDS400T3X0C), mounted on a Sabrent NVMe M.2 SSD to PCIe - X16/X8/X4 Card with Aluminum Heat Sink (EC-PCIe), which was inserted into one of the PCIe 3 slots.
This was a good match between the motherboard and the NMVe; even though the SN750 NVMe drive's maximum transfer rate is double that of what PCIe 3 can deliver. The next cheapest model is an SN550, but its transfer rate is only 2 GB/s, which is 30% slower than what PCIe 3 can deliver, and it costs about the same as an SN750.
The other solid-state drive, a Crucial MX500 2TB 3D NAND SATA 2.5 Inch Internal SSD, (rated up to 560MB/s - CT2000MX500SSD1) was connected via SATA. This slow drive really throttled the system, especially since this was the Windows system drive. All of the PCIe slots were in use, because the motherboard does not offer enough USB ports, and 2 USB expansion cards were used. Otherwise, another Sabrent NVMe M.2 SSD to PCIe card, paired with another SN750 would have really sped up the system.
CrystalDiskMark benchmarked the SATA SSD drive about 10x slower than the PCIe NVMe drive.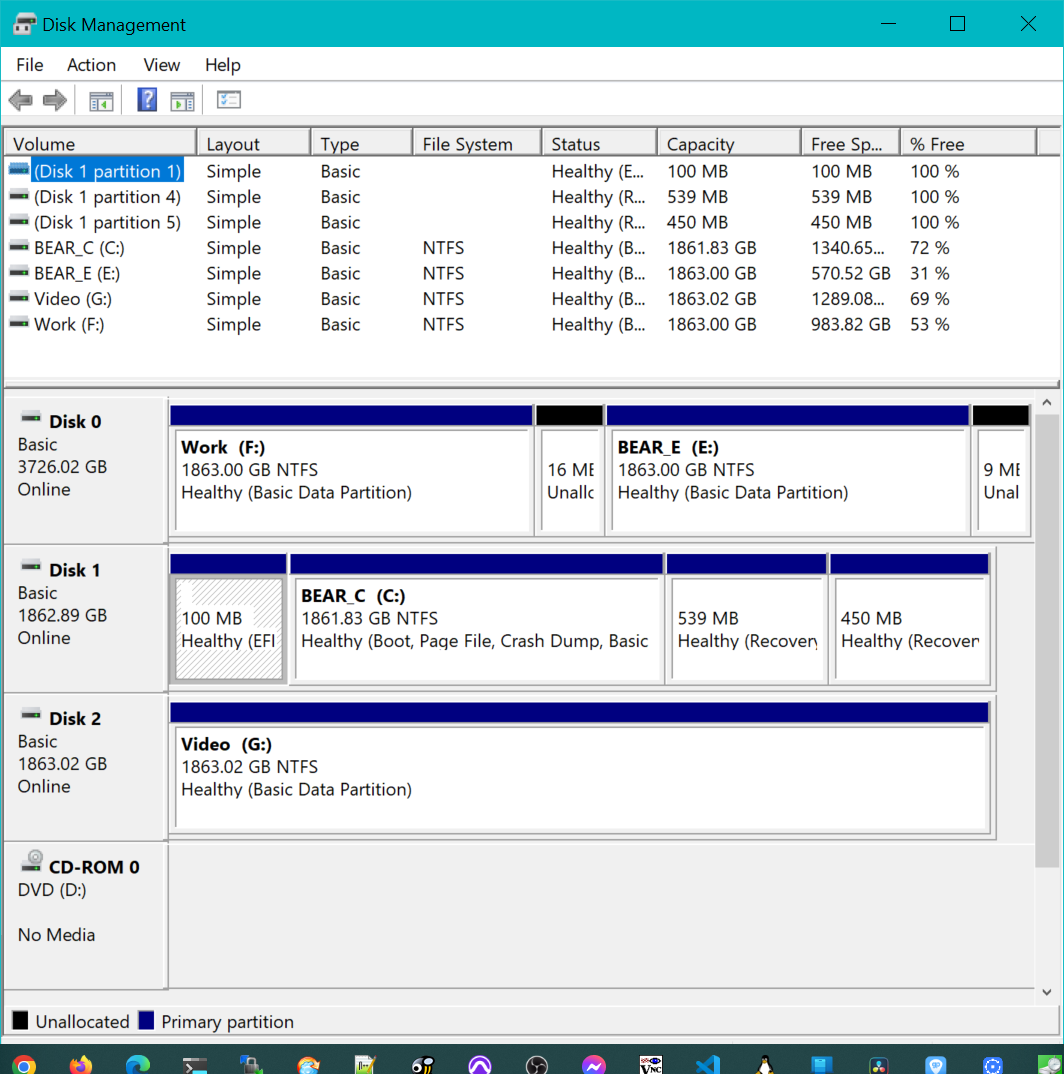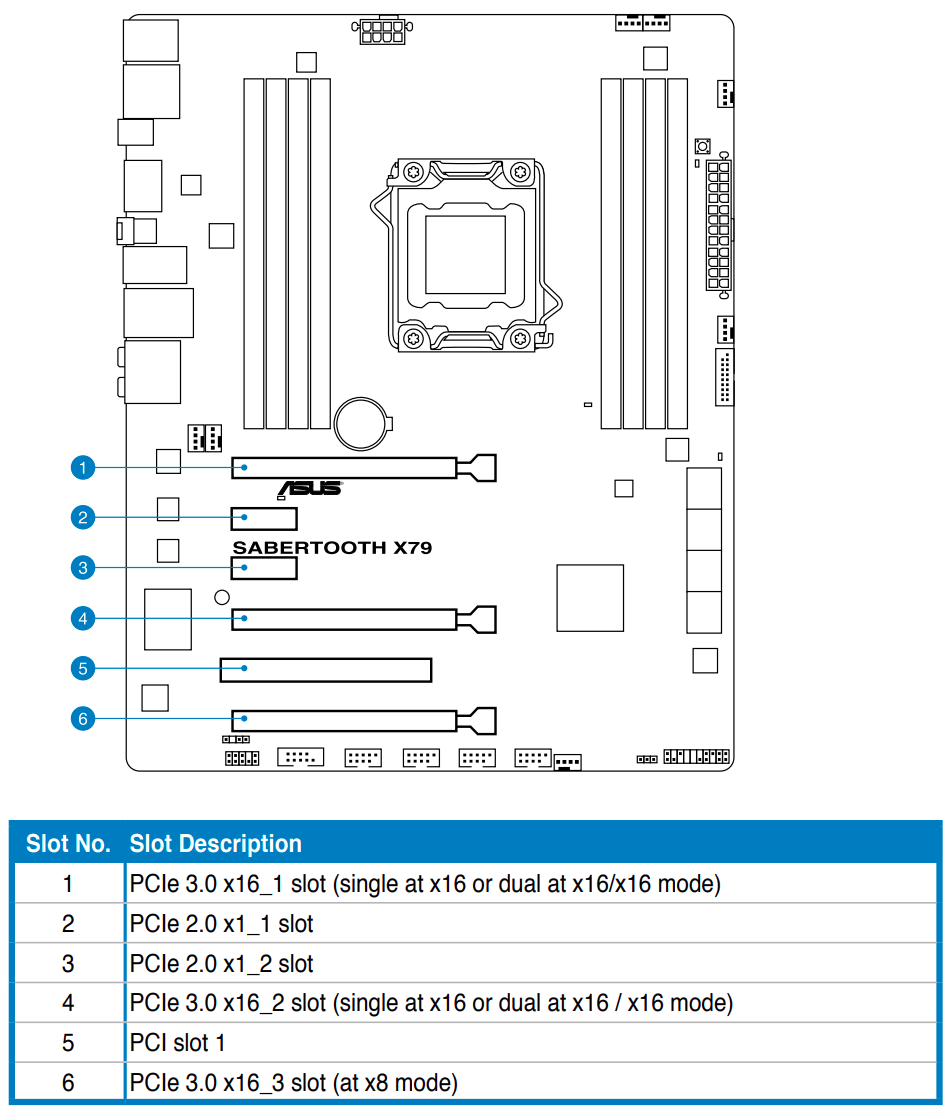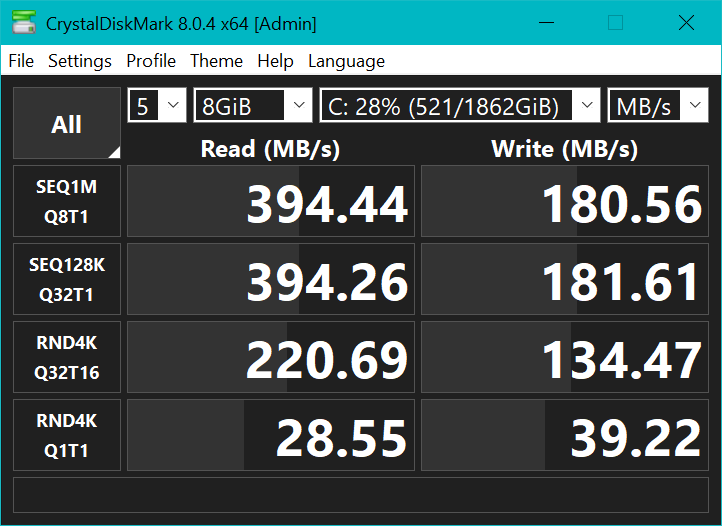 Version 4
Upgraded 2014 to an Intel Core i7 3820 processor, new motherboard, etc.
Over time, this version became nearly unusable, due to the inadequate transfer speed of the SATA3 hard drives. Booting Windows 7, and later, Windows 10, would take 10 minutes.
Version 3
Upgraded July 2012 to an Ivy Bridge i7 930 CPU, and moved the old parts into a new enclosure, called BamBam.
Version 2
Rebuilt using an Intel i7 and Windows 7 Premium 64-bit, later upgraded to Windows 7 Ultimate.
Version 1
This computer was originally built around an Intel Core 2 Duo and Windows XP (32 bit) using an ASUS P5W DH Deluxe motherboard.